Internal Industrial Doors - Steel Personnel and Fast Action Doors
"Internal industrial doors" as a term, isn't used often.  But, they do exist and come in different forms.  In this blog we look at the two most common forms.
Most commonly recognised are steel personnel doors; these improve ease of access for pedestrians.   However, fast action doors are classed as internal industrial doors too. 
As the curtains are made from PVC, unlike steel doors, these are not designed for external security.  
There are many examples of external security doors on this site, so we won't go into them here.
Fast action doors improve ease of access for vehicles; as a result, this makes an opening far more efficient.  
In addition, they help to keep heat in and dust out; whilst allowing maximum light through.
Place a fast action door behind an external door, or between rooms as a divider.
Click on the Eco-Strip page to learn how versatile they are; and what other applications they have been applied to.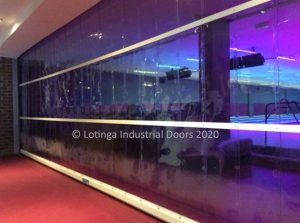 Maintenance
Internal doors require the same amount of maintance as external ones.  Ensure all industrial doors are running safely and efficiently by maintaining regular servicing.  Lotinga offers a Service Agreement Facility; which entitles the holder to discounts off scheduled repairs.  
Click on the Service and Save for further information; or, contact us to learn more and get a quotation.
---
Thinking outside the box is what we do best.
Contact Us to discuss your Internal Industrial Door needs.