You can visit our premises (by appointment) to view our very own high-speed doors.
High-Speed doors are designed for excessive use. They dramatically reduce draughts and temperature loss and at the same time optimise traffic flow.  
---
Traditional Canvas Speed Door
If you would like a traditional canvas High-Speed Door, we can provide you with a quotation. However, we find the demand for these types of fast action doors has reduced.  Since they are costly to install and repair and parts have to be imported.   As a result, it often means a slow turnaround.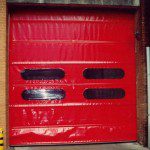 Versus The Eco-Strip Door
"Very professional service from first to last contact with Amy & Trina, Nicks technical advice and the installation teams who are very knowledgeable and portray a very positive and courteous image on behalf of their Company"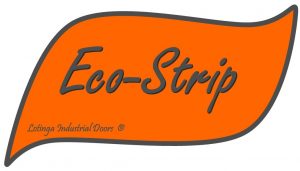 Designed and Manufactured here at our Kent premises.  Combining a PVC Strip curtain with High Speed Activation.
Our high-speed door can be supplied and repaired at a fraction of the cost of similar type doors currently on the market.  Please see our Eco-Strip page for further details.
Benefits of the Eco-Strip Speed Doors
♦ Very Versatile in a wide variety of environments and applications
♦ Instant pass for people or vehicles
♦ Reduces heat loss / Energy Saver
♦ Aids in controlling air and dust
♦ Allows in maximum natural light
♦ Manufactured from heavy duty and durable PVC
♦ Cheaper repair bills than traditional canvas speed doors
♦ Many different forms of automation
♦ Avoid scratch damage found on traditional PVC strip curtains.
♦ Integral Personnel Door Option
Safety
As machines, Speed Doors come under the Machinery Directive. As a result, the law states you must service speed doors at least once a year.  Click here for more information on your legal obligations, or contact us for further advice instead.
---
SAFETY - Fast Action Doors - Important to Note!  
♦ Avoid Unwanted Damage - Ensure your Eco-Strip Doors or other Fast Action Doors are  ALWAYS raised and left up during gale conditions.  
♦ DO NOT attempt to pass underneath a speed door once it has started lowering.  Although Automatic Speed Doors have safety features, they can still take up to 0.68 of a second to respond to an obstruction.   We have had some customers attempt to drive or walk through whilst it is closing. 
The photo beams stop the door from operating when a person is standing within the beam area. The safety edge will send the door back up only once it has touched an object or person.
Unless you have a speed door set to pick up walking personnel, they MUST use other entrance doors into the building.  In this instance, we also strongly advise our customers to erect signage to that effect.
A motion sensor is a device used for picking up walking personnel.  Please get in touch with us for further information.
♦ NEVER reverse through the opening.  Ensure you have a total, clear vision of the entire door before attempting to pass through.
PLEASE DO NOT DO THIS! 
If you are travelling through the opening while the door is closing, you can cause damage to the door and your vehicle or injury to yourself.
If you think this type of incident could occur at your premises; please ask about traffic lights or other forms of alarms that we can provide to alert personnel when it is safe to pass through.
Featured Project
Check out this project featuring an Eco-Strip Door.