Manufacturers, Installers and Repairers of Commercial Doors throughout Kent, Sussex, Surrey and London
There are wide range of Commercial Doors available, such as Roller Shutters and Steel Personnel Doors.
See below a selection of the doors on offer or contact us for expert advice instead.
---
"I engaged Lotinga to install a replacement roller shutter door at a premise in Kent. The communication surrounding the job, the quality of the installation and the attention to detail were all first class. I wouldn't hesitate to use them again"
High Speed Doors
As manufacturers of our own PVC Strip High Speed Door, the Eco-Strip, we are very competitive on price compared to traditional canvas speed doors; in addition can offer a quick turnaround.
Visit our Speed Doors page for more information; alternatively if you would like to see them in action, click on our Video page instead.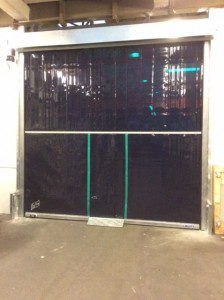 ---
Roller Shutter Doors and Grilles
Manufactured here in the South East, roller shutter doors provide superb security for your premises, in addition, we can offer a quick turnaround on these as well.
See our Roller Shutter page for additional information.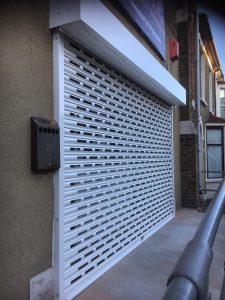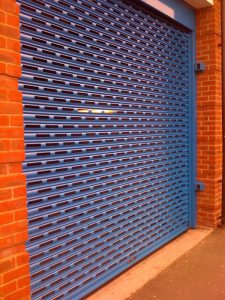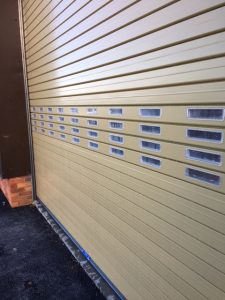 ---
Steel Personnel and Emergency Exit Doors
Strong and durable, steel personnel doors are generally used externally, in addition depending on the level of security required, they can be used internally as well.
If a level of fire resistance is required, these doors can provide that.
Click over to our Steel Personnel Doors page for more information.
---
Sectional Overhead Doors
If there is plenty of overhead space available, Sectional Overhead Doors can make an attractive addition to your premises.
Sectional Doors incorporated with Dock Levellers  and Shelters.  An ideal solution for the purpose of being a bridge between a vehicle and the floor of the premises.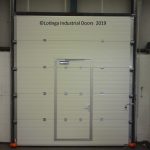 ---
Sliding and Folding Doors
Where overhead height is an issue, Folding and Sliding Doors are an ideal solution
Click on our Sliding and Folding Door page for further information.
We offer many other products, visit our Products Page to see our whole range.
---
Security, Reliability and Maintenance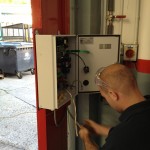 In order to ensure your doors continue to run safely, reliably and maintain the security of your premises, regular maintenance is essential and not to mention required by law.  
Click on our Safety and Legal page to see what your obligations are; in addition click on our Service and Save page for information on how you can be eligable for discounts on Servicing and Repairs.
Lotinga Doors Latest News
Commercial Door News Updates
An altered opening with a new shutter door
Internal Shutters as room dividers
A facelift for a Commercial premises
Featured Project
Click on to see a Project featuring Commercial Doors.