Wicket Gates provide a convenient method of entering without raising the shutter.
We install wicket gates throughout Kent, London, Sussex and Surrey. Contact us to find out if wicket doors are the best option for your openings.
Wicket Gates Focus
Call Now! 01795 473111
With no Steel Personnel Door or other access into a building, a wicket door provides a more convenient entry method.  Removing the need to raise the shutter each time.
When installed within a Roller Shutter Door, the wicket gate does not roll up; you must push the gate back for the shutter to operate.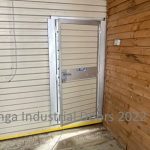 Wicket Gates - How They Work
Roller Shutter Integral Door
You cannot lift the Wicket Gate along with the roller shutter door.  Instead, you must follow these steps:
Undo the top and bottom internal levers to release the securing flap.

Pull both the door and frame back towards the wall.
If the door is electrically operated, the gate MUST engage with the safety interlock switch (see below)

The shutter can then be raised.

To avoid damage to the shutter, please do not attempt to raise it with the wicket gate.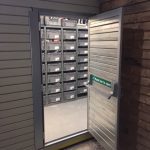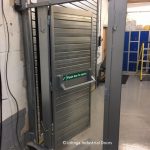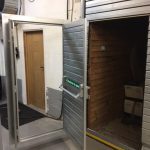 Wicket Gates - How They Work
Sectional Overhead Door Integral Door
Unlike a roller shutter, Sectional wicket gates are designed to raise together.  However, you must ensure the gate is securely closed before attempting operation.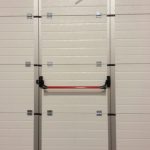 Safety Interlock Switch
Electrically operated roller shutters and sectional overhead doors, with integral doors, must have this additional safety feature.  
If the gate is not fully opened or positioned correctly, the door is prevented from operating.  Thus avoiding any damage to the door.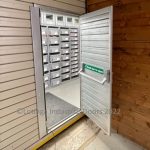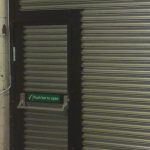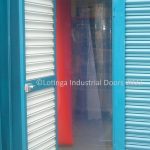 Need an emergency exit door?  With a panic bar installed, you can use these integral pass doors for emergencies.
Two Sizes Are Available:
Standard Size: 550mm wide x 1650mm high
Euro Size: 750mm wide x 1875mm high
---
Finishes
Unsure of the finish you would like?  Please refer to our Accessories Page for Finish Options.
---
"Very prompt service. Polite service desk and engineers.  Would deal with anytime"
Service and Save
To aid customers we offer a Service Agreement Facility; entitling the holder to discounts off Servicing, and, also Scheduled Repairs. As a result, doors run safely and smoothly.
Click on our Service and Save page to learn more. Alternatively, use our contact form to get a quotation instead.
Don't fall foul of the law. allow us to help you maintain your door.  For further information on your legal obligations; view our Law Around Industrial Doors page.
Lotinga Doors Latest News
News Updates
Wicket Doors Are Useful, But Are They The Best Solution? Here, the Pros and Cons of Wicket Doors are examined, so an informed...
Read More
Carport Conversion Using Wicket Gates
When wall space is a premium, Wicket Gates can be the solution.
Shutter & Personnel Door Installation
If a Wicket Gate isn't exactly what is required, a Steel Personnel Door will do the job.